Theydeserveit
>>
Christmas
>>
Christmas Cakes
Christmas Cakes
| | |
| --- | --- |
| | Christmas brings with itself a lot of scope for creativity. The decorations, gifts, food and holiday activities, all give us an opportunity to be enthusiastic and creative, making the Christmas season a memorable and joyous event! When it comes to food, one cannot miss the aromatic and delicious Christmas cake. A celebration without a cake |

representing the theme of the occasion is quite an incomplete celebration. You can buy the cake from a bakery shop or order some online but there is great fun in making the cake yourself!! It adds to the celebrations.

There are an array of different cakes and designs to suit all tastes of one and all. A bright, beautiful Christmas cake certainly deserves a place in every house. We have picked some of the simple Christmas cake recipes for you:



Christmas wreath cake

You need:
1 1/2 cups raisins
1 cup red and green candied cherries
3/4 cup dates, pitted and chopped
3/4 cup candied pineapple, diced
3/4 cup chopped nuts
1/2 cup flaked coconut
3 cups all-purpose flour
1 teaspoon baking powder
1/2 teaspoon salt
1 cup butter
1 1/4 cups white sugar
1 teaspoon lemon zest
4 eggs
2 teaspoons lemon juice

Method
1. Take a tube pan and line it with two layers of brown paper and make sure to grease it well. Also preheat the oven to 300 degrees F.

2. Now whisk flour, salt and baking powder together in a large bowl. Add the cherries, dates, pineapple, nuts, raisins, and flaked coconut and stir well to make sure all the fruit get coated

3. In a separate large bowl, cream the butter with the white sugar and put lemon rind, lemon juice, and eggs into it. Mix it well. Now add the fruit mixture as well. Take the prepared pan and spread the batter into it. 4. Bake for 2 hours and serve cool.

Christmas Cherry Cake

Ingredients
1 cup white sugar
1 cup butter
2 eggs
1/2 cup orange juice
2 cups all-purpose flour
1 teaspoon baking powder
12 ounces raisins
8 ounces halved glace cherries

Method
1. Preheat oven to 300 degrees F (150 degrees C). Grease and line with parchment paper one 9x5 inch loaf pan.

2. Cream the butter or margarine and sugar together until light and fluffy. Add beaten eggs and orange juice and mix well.

3. Sift flour and baking powder. Reserve 1/3 cup of flour mixture and toss with raisins and cherries (this will keep them from sinking to the bottom of the cake). Add flour mixture to batter and blend. Add floured raisins and cherries to dough and mix until just combined. Pour batter into prepared pan.

4. Bake at 300 degrees F (150 degrees C) for 2-1/2 hours. Don't serve until several days old. Wrap the cake in plastic wrap or foil and store in a sealed tin.

Christmas Tree Cake

Ingredients
1 pkg - Cake Mix (any flavor)
5 cup - Confectioners' Sugar
¾ cup - Crisco Shortening
½ cup - Water
1/3 cup - Non-dairy Creamer
2 tsp - Vanilla Extract
½ tsp - Salt
1 tbsp - Green Food Coloring
Peppermint Candies
Pretzel Rods
Large Gumdrops

Method
1. Preheat the oven to 350 degrees F. Grease and flour a 13x9 pan.

2. Prepare, bake and cool cake following any above directions.

For Frosting:
3. Combine confectioners' sugar, shortening, water, non-dairy creamer, vanilla and salt in large bowl. Beat at medium speed with electric mixer for 3 minutes. And then beat at high speed for 5 minutes. Add more confectioners' sugar to thicken or more water to thin as needed. Reserve 1 cup frosting.

4. Tint the remaining frosting with green food coloring.

5. Cut cooled cake diagonally and invert one piece so that the cake takes on a tree shape with a wide base. Spread green frosting over cake.

6. Decorate tree with reserved white frosting and peppermint candies.

7. Make trunk from pretzel rods.

8. Roll out large gumdrop and cut with star cookie cutter. Top the tree with gumdrop star.

9. Decorate with colored mint candies, as ornament decorations.

10. Use reserved white icing to make a tree garland.


Recommended Gifts



Below 25$
It's a Party Chocolate Dipped Strawberries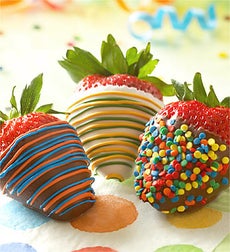 Mrs Beasleys Treats Box

Lemon Cake and Cookie Treats Gift - Medium

Below 50$



Cheryl's Classic Bakery Gift Tower



Junior's Devil's Food Cheesecake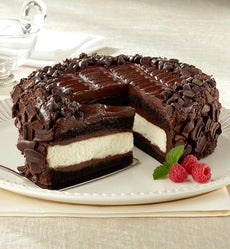 Mrs Beasleys Snack Gift Basket - Medium

Below 100$



Make-A-Wish Foundation Bakery Assortment


Cheryl's Fall Entertainer Gift Baskets - Large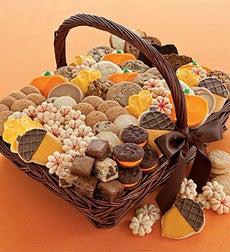 Make-A-Wish Foundation Supreme Gift Tower