Theydeserveit
>>
Halloween
>>
Halloween Decorations
Halloween Decorations
| | |
| --- | --- |
| | Decorations are the most important aspect of celebrating any festival or hosting a party. It's time to get ready for Halloween that is on 31st October. From deciding a theme for your Halloween party to shopping for Halloween clothes to carving out pumpkins for decorations, there is a lot of work to be done. And if you are someone who just keeps planning but nothing works out efficiently, this is the time to get your acts together and start making arrangements. You can decorate the indoor and outdoors of your home with any theme for Halloween like, spooky, eerie, haunted, extra-terrestrial, ghastly etc |
Halloween Decoration Ideas

There are many ways you can go for Halloween decorations, but we have some of the most helpful ideas and tips exclusively for you.


Color schemes for Halloween decorations are important. The traditional colors are black and orange but in contemporary Halloween imagery you will also find shades of purple, red and green.


Besides the common symbols of Halloween like ghost, demons, vultures, bats, owls, spiders, monsters; elements of the autumn season, such as scarecrows and pumpkins are also popularly used for decorations.


If you have a backyard, then decorate it to create a smoky, spooky atmosphere. Use traditional carved pumpkins and jack-o-lanterns or Halloween luminaries to carve out a path in the back lawns leading to the entrance. There are inflatable ghosts and goblins that can be used for decorations outdoors or you can hang white sheets shaped like a ghost with sparkling eyes from wires or strings.


Fog machines can produce spooky, haunted effect for Halloween parties or backyard decorations. This intensifies the eerie appearance for a graveyard theme Halloween.


Another great idea for Halloween decorations is spider webs all around the house especially at unexpected places so that your guests give a freaky scream when they suddenly find themselves caught in it. Another customary decoration for a haunted effect is a black cat with sound effects and a witch or two sitting in the trees outside or in a dimly lit room in the house, probably invitingly lying down on the couch where guests get together.


Fake body parts and fake blood splashed all around the party area or the entrance, can be a great Halloween decoration idea.


Candles also create a dim scary effect for the party. These days you even get special Halloween candles and light strings in the shape of haunted house, ghosts, pumpkins and apples.



Create monster footprints all around, using a sponge, shaped out like a monster's feet and red or black washable paint.


Use fake plastic bats and tie them upside down, in the interior of the house and just outside the door way, this will produce a haunting effect. The bat decorations are quite popular this season.


Place eerie looking, Witch's broom at every corner of the house, or you can also make a fake image of Witch sitting on one or two of these brooms, ready for the flight.


You can also place two or three mummies in the internal parts of the house, or make one stand just at the entry , so that you can enjoy that frightened scream of your guests, the moment they will be welcomed by these horrifying mummies, all wrapped in bandage.


You can also scare your guests by locating an old and dirty looking coffin at your house, covered with dust and old dried leaves. It would be all the more fun if the coffin is open, and there is half decomposed, ugly and terrifying rotten corpse, lying inside. Try to make it even better by fitting two small green light bulbs in the corpses' eyes, which lights up at the slightest touch by anyone. It will be crazy fun to watch people, going hysterical at this sight.


Decorate your house with skeletons, bird feathers and multi colored lights, which keep dimming and dazzling , the tint of the room.


These few decoration ideas, during Halloween or in a Halloween theme party, would definitely serve the purpose, which is to enjoy the true spirit of the horror attached with the festival, and of course, to scare every one.

Last Updated On : October 07, 2011
Recommended
Below 25$
Happy Halloween Garden Flag

Trick or Treat Halloween Doormat

Skull and Bones Night Light (23437)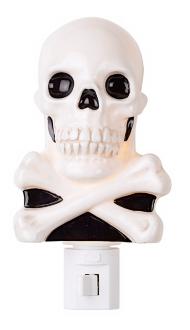 Below 50$
Halloween Ghost Family Personalized Ceramic Bowl

Personalized Happy Halloween House Flag