Theydeserveit
>>
Halloween
>>
Halloween Games for Kids
Halloween Games for Kids
| | |
| --- | --- |
| | When it comes to playing games on the most popular festival called the Halloween, children get a very good opportunity spend full time in playing their favorite games. And the best part of this is that there is no one to stop them from playing even if they devote their entire time in playing them. They can always have a very appropriate excuse in the name of Halloween, which can save them from the any kind of reprimand. |

And why should they disallow them from taking the advantage of such a wonderful chance? They have every reason to rejoice and indulge themselves into the purposely-invented kids' games for Halloween. If elders cannot restrain themselves from taking the pleasure of the whole adventure that can be there in the numerous games, then why should kids be regulated? And that also when it is the peak time of Halloween! No matter what the elders say, the group of kids would never relent when everything is associated with the Halloween games especially for kids. Among the many Halloween games for kids, there is a game called 'Extraction of Dummies'. In this game, the apparatus that is needed consists of a large bowl or pool, which can be made brimful with water.

With the help of water colors or other effective colors, that whole water can be made red to appear like a blood filled pond. After that different dummies or mock spooky objects can be thrown into the so-called pond. And should not be visible to anyone. The thrill in the whole game is that kids need to extract any one particular object and that too in just one go. Kids have to detect that named monster just by touching the objects in the bowl. Whosoever succeeds in doing this in one chance becomes the winner of the game.

Other Halloween game options for kids include challenging the mind through several monster riddles. Some of them can be quite picturesque containing the drawings of ghosts divided by the broken pieces of cardboard. The pieces are supposed to be shuffled and then by looking at any one of the broken pieces, other similar pieces have to be traced from the entire bunch. A proper recognition of the figure can easily lead any child join them inn an organized manner. The wonderful part of this game is that even a single child can play and can be surprised to get the amazing fun.



For the very talented kids that can frame commendable haunting stories, a story telling game can be stupendously out of the box. The kids can use their creativity and give it the touch of the threatening Halloween mania. The one who writes the extremely macabre story can be titled as the true Halloween story framer.

Other Halloween kids games can be as exciting as the above mentioned. There are very affordable games in abundance including the ghost bingo and ghost catcher that are readily available in the market. Moreover, other games that can amuse kids can be arranged at home. Kids can carve out monster salads from the veggies and fruits available at home and can eat them like monsters. The one who carves out exact and outstanding shapes should be awarded the Halloween medal.
Recommended


Ghostly Tricks and Treats Personalized Black Canvas Trick or Treat Bag

Disney Scary Storybook Collection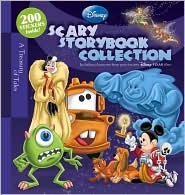 Franklin's Halloween Fun: Sticker Activity Book

Pun'kin Head Trick or Treat Bag

Halloween Fun (Big Puzzles and Coloring)