Theydeserveit
>>
Personalized Gifts
>>
Baby Gifts
>>
Baby Silver Gifts
Baby Silver Gifts
| | |
| --- | --- |
| | The arrival of a newborn baby is always a wonderful happening in the life of a couple. Not only the family members but also the family friends want to convey their happiness on the onset of the new angel on this earth. And the best way of expressing one's happiness can be presenting the baby with baby silver gifts. The baby silver gifts can be the best portrayal of your love for the angel. Keeping the importance of the baby silver gifts in mind we have come up with certain suggestions for baby silver gifts, which can help you in choosing the best ever baby silver gift. |

Feeding Spoon
Feeding the baby is always a challenge in itself. So gift a silver-feeding spoon to the baby so that his feeding time can be more enjoyable. These silver spoons come with small bowl for the baby's mouth and long handles to reach the baby food jars. These silver feeding spoons can then be preserved as perfect keepsakes.

Silver Baby Rattle
Another option for the baby silver gift can be the silver baby rattle. The silver baby rattle produces beautiful sounds and comes in different shapes and sizes. A traditional gift, the silver baby rattle can be the best keepsake gift for the baby, which can be preserved for many years without the fear of it getting damaged.

Silver Baby Cup
Silver baby cups are becoming more and more famous nowadays. These silver cups are beautifully designed with engraved designs on them. You can also include a small feeding spoon along with the cup as a perfect baby silver gift. You can also get the cup personalized by having the name of the baby written on the cup.

Baby Comb
Nowadays you can also get silver baby combs. These silver combs come in beautiful gift boxes and can act as the perfect showpieces also. These silver baby combs can be easily preserved as keepsakes also. Some combs come with nice designs engraved on them, which make them all the more lovely to look at.On theydeserveit.com you will find some of the best ideas for a perfect silver baby gifts.


Recommended Gifts


New Baby Engraved Cross Ornament


Baby Sitter Personalized Ornament

Hello Baby! Deluxe Boy Welcome Wagon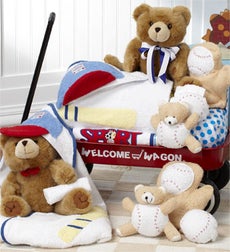 A is For... Stars Fleece Romper

Velvet Santa Jumpsuit Newborn/infant

Swing and Sway Snowman