Theydeserveit
>>
Personalized Gifts
>>
Baby Gifts
>>
Baby Baptism Gifts
Baby Baptism Gifts
Baby baptism is the first and the most religious occasion associated with the baby's life. This ceremony initiates the child's religious or spiritual life. As a common custom all the invited guests are supposed to bring some baby baptism gifts along with them as a symbol of their good wishes for the baby on this special milestone of his life. The baby baptism gifts should be such that they can do ample justice to the special occasion.

Though sometimes it becomes a little difficult for many people to choose the perfect baby baptism gift as they are not able to settle upon the ideal baby baptism gift idea.

To solve this problem we have come up with some of the best baby baptism gift ideas.

Cross
Cross has been the most common baby baptism gift till now. The most favorite of these is the Pewter baby cross with an Austrian Crystal blue stone which makes it a great baptism baby gifts for little baby's rooms. The wordings on the cross are "In One Spirit all of us are baptized into the one body of Christ". There are many more options available in the cross with beautiful religious wordings engraved on them.

God Bless Teddy Bear
Babies always have a liking for the soft toys. So why not gift them soft toys, which are not only soft and cuddly but also, bring the wishes of God for them. You can get huge nice soft toys especially teddy bears which have some nice religious wordings written on their clothes. If not teddy bear then you can go for nice beautiful dolls.

Today I Was Baptized Book
'Today I Was Baptized' has been written down by Dianne Ahern. This book tells the story of an infant's baptism and also includes some short essays about the sacrament of baptism, origin of baptism and traditions related with baptism. The book also offers the parents to record the story of their baby's baptism.

Baptism Keepsake Box
Another appealing baby baptism gift can be the baptism keepsake box, which is large enough to hold photo albums, papers, books, awards and even baby cloths. Usually these boxes are made up of recycled fiber board which is absolutely acid free to insure that anything which comes in contact with the box does not get damaged.

Theydeserveit.com presents some of the best suggestions and ideas on baby baptism gifts.
Recommended Gifts


New Baby Engraved Cross Ornament


Baby Sitter Personalized Ornament

Hello Baby! Deluxe Boy Welcome Wagon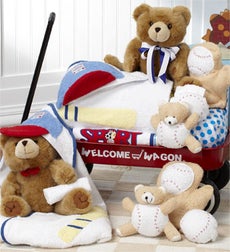 A is For... Stars Fleece Romper

Velvet Santa Jumpsuit Newborn/infant

Swing and Sway Snowman