Theydeserveit
>>
Personalized Gifts
>>
Baby Gifts
>>
Handmade Baby Gifts
Handmade Baby Gifts
| | |
| --- | --- |
| | Handmade baby gifts are the unique keepsakes, which can be preserved for many years to come and can remind the baby of your undying love for him or her. In today's busy and materialistic world when you can get the best readymade baby gifts, the handmade baby gifts have somewhat lost their esteem. But then also these handmade baby gifts are |

considered by many to be the best reflection of one's love and affection for the baby.

The handmade baby gifts can be created at home by involving a little of your creativity and imagination. We have come up with certain ideas for some handmade baby gift ideas, which you can implement easily for giving the sweet baby, the best handmade baby gift ever.

Baby Pearl Necklace
Every baby deserves to get a nice piece of jewelry and the necklaces or bracelets can be the best option for the baby gift. The best thing about these bracelets or the necklaces is that they can be handmade by you with a little bit of ingenuity and imagination. You can use elegant fresh water pearls for making this precious necklace or bracelet. This can be the best handmade baby gift from your side to that sweet angel who brought so many happy moments in your life.

Handmade Baby Blanket
A baby who has everything, the perfect handmade gift would be the baby blanket with the name of the baby engraved on the blanket on one end of the blanket embroidered by you. You can also get handmade baby blankets in the market, which are made of 100% cotton and have beautiful prints on them.

Homemade Gift Baskets
If the above two gift ideas do not impress you then you can go for handmade gift baskets prepared solely by you. For preparing a handmade gift basket you can take a basket and can put in it all the different kinds of things, which can be of use for the baby. The basket can include things like baby lotion, towels, burp clothes, washcloths, baby pacifiers, baby food, baby candies, baby booties and baby clothes. Then you can gift wrap this handmade gift basket with a nice gift wrapper to give it an elegant look.

Theydeserveit.com will help you find and make some of the best handmade baby gift items.
Recommended Gifts


New Baby Engraved Cross Ornament


Baby Sitter Personalized Ornament

Hello Baby! Deluxe Boy Welcome Wagon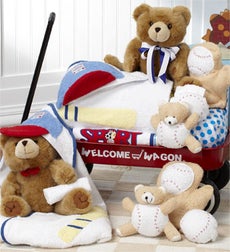 A is For... Stars Fleece Romper

Velvet Santa Jumpsuit Newborn/infant

Swing and Sway Snowman