Theydeserveit
>>
Christmas
>>
Christmas Party Decoration
Christmas Party Decoration
| | |
| --- | --- |
| | Christmas parties are a trend now! What's the holiday season without attending Christmas parties and hosting one yourself? It's the important part of Christmas celebrations, after all Christmas party involves getting together with variety of guests like family, friends, office colleagues or neighbors and celebrating this marvelous festival of |

joy, Christmas! Major attractions of Christmas celebrations is exchanging gifts, decorations, delectable Christmas delicacies and having lots of fun. Adorning your house for a Christmas party can involve some planning, after all it's a great way to impress your guests and show them what a wonderful host you are!

Since the indoor and outdoor of your house is already decorated with Christmas decorations, we have a few significant tips for setting the mood for a Christmas party:


Welcome your guest by showing them the way to your house by setting out luminaries from your doorway till the place your guests will walk after parking their cars. These lanterns made from ice, citrus slices and evergreen boughs, come in various shapes and colors to give your surroundings a festive look.
The party room can be decorated with a small pre-lit artificial Christmas tree in the color of the theme you choose for the party. In addition, you can add candy canes, popcorn strings, or chocolates wrapped in golden or silver foil paper. These make edible Christmas ornaments, a great Christmas party decoration idea.
To set a festive mood and warm up the house, light some scented Christmas candles, a sting of Christmas lights, and fireplace.
Use the party favors as decorations. If you plan to use beautifully wrapped Christmas candles as party favor, then place them on the stairs of the staircase or place them on a center table close together to make a centerpiece.
Hang Christmas stockings and Santa caps everywhere and fill them with small Christmas gifts or candies. This is also a simple Christmas party decoration idea.
How about having a Christmas party banner to declare the theme of your party? This works well for a themed party like "Christmas tree decoration" party, "Gingerbread house" party, "Welcome Santa" party etc and makes your party a grand celebration itself!
Decorate your window coverings with silver or golden bells hanging from the curtain rings by red or green ribbons. These ringing bells compliments to the soft music that you play in the background like some Christmas songs and Christmas carols.
You can décor the guests as well with some flashing LED star ball necklace, bracelets or ring, flashing rose earnings etc. For the kids LED Christmas jelly yo yo works great. These are easily available at any party supplies store.
Recommended Gifts


Red Hearts 10-Light String of Party Lights (N6588)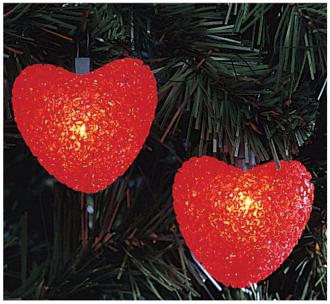 Santa's List Personalized Gift Sack

Santa Personalized Christmas Garden Flag



Embroidered Poinsettia Christmas Stocking

Embroidered Christmas Towels

Personalized Ceramic Snowman Serving Platter

Swing and Sway Snowman