Theydeserveit
>>
Christmas
>>
Christmas Poems For Kids
Christmas Poems For Kids
| | |
| --- | --- |
| | Christmas is more fun for kids than for anybody else. For them it's the holiday time to have fun, play games in the snow, meet with friends and family, eating delicious candies and cakes, get involve in Christmas decorations, receive gifts, waiting for Santa Claus and singing Christmas carols and poems. Christmas poems are a way for the children to |

know more about the Christian traditions and their importance. So it becomes essential for the parents to impart them with this knowledge about Christmas apart from all the fun activities. We present some of the Christmas poems for kids that have easy words for them to grab their meaning:

A Child's Christmas Eve Dream

Last night I had a lovely dream,
But strange as it could be,
For on the hill beside our house
Stood a great Christmas tree.

It glowed with lighted candles,
High at the top, a star,
And 'round it, dancing in a ring,
Children from lands afar.

There were polite, little English girls,
Swiss boys with funny skis,
Dutch children in queer wooden shoes,
Joined hands with shy Chinese.

Turkish lads is tassled fez,
Tots from France and Greece and Poland,
Laughing as the children do
In the safety of a free land.

Perhaps my dream's a prophecy
Of Christmases to be,
When little children everywhere
Can sing because they're free.

I surely wish with all my heart,
This day of Jesus' birth,
That peace and love and happiness
Soon cover all the earth.


I Believe In Santa

Having faith in Santa Claus
Is not for just the young,
I know I'll keep proclaiming him
As long as I've a tongue.

And even though I see the gent
Unmasked before my eyes,
Revealing some familiar friend
Who's donned the quaint disguise,
It doesn't change my mind a bit;
I'll still believe, because
There's more than whiskers and a suit
To dear old Santa Claus;
Bright hopes there are,
And dreams come true,
Good cheer, unselfish sharing
Personified by gifts of love
Within the pack he's bearing.

To call these angels "Santa Claus"
Is surely not deceiving,
So I, for one, will never scoff
But go right on believing.


Christmas Alphabet

A for the animals, out in the stable,
B for the Babe in the manger cradle,
C for the carolers, happy and gay,
D for December, the 25th day,
E for the Eve when we're all so excited,
F for the fun when the Christmas tree's lighted,
G for the goose, so round and so fat,
H for the holly and Santa's red hat,
I for the ice on snow-covered hills,
where sledding is fun, in spite of the spills,
J is for Jesus, the Christ child so dear,
We honor His birth on Christmas each year,
K for the kitchen where Mom cooks the feast,
L for the light shining way in the East,
M for the mistletoe. Watch where it hangs!
N is the noel the angels first sang,
O for the ornaments trimming the tree,
P for the presents, for you and for me,
Q for the quaking of shepherds in fear,
when the bright angels brought them the words of good cheer,
R for the reindeer, leaping the roofs,
S for the stockings that Santa Claus stuffs,
T for the toys, the tinsel, the tree,
U is for us- the whole family,
V is for visitors, friends far and near,
W is for welcoming wreaths on the wall,
X is for Xmas, with pleasures for all,
Y is for Yule logs whose bright sparks fly high,
to give a warm welcome to friends passing by,
Z is for zeal we show at this time
in giving to others and loving mankind.


Some Children See Him

Some children see Him lily white
the infant Jesus born this night
Some children see Him lily white
with tresses soft and fair
Some children see Him bronzed and brown
the Lord of heav'n to earth come down
Some children see Him bronzed and brown
with dark and heavy hair (with dark and heavy hair!)
Some children see Him almond-eyed
This Saviour whom we kneel beside
Some children see Him almond-eyed
With skin of yellow hue!
Some children see Him dark as they
Sweet Mary's Son to whom we pray
Some children see Him dark as they
And, ah! they love Him so!
The children in each different place
Will see the Baby Jesus' face
Like theirs but bright with heav'nly grace
And filled with holy light!
O lay aside each earthly thing
and with thy heart as offering
Come worship now the infant King
'tis love that's born tonight!
'tis love that's born tonight!

Christmas Children

All: Happy children here we stand.
Bringing words of love;
For on this glad Christmas day
Christ came from above.

C is for the Christ Who came
To this lowly earth.
H is for the harps that rang
At our Saviour's birth.
R is for the ringing bells,
Telling Christmas-tide.
I is for the crystal ice
Where we go to slide.
S is for the schoolboy's sled
When he coasting goes.
T is for poor Tommy Jones-
Jack Frost bit his nose.
M is for the merry part
Of this Christmas day,
A is for the apple pies
Grandma put away.
S is for old Santa Claus,
Coming here to-night.
Hope he'll wait till nearly morn,
So it will be light.

All: Yes, we're happy children nine,
And to each we're true, Three cheers for jolly Santa Claus,
A happy day to you.


Twas the Night before Christmas Poem By Clement Moore

Twas the night before Christmas, when all through the house
Not a creature was stirring, not even a mouse.
The stockings were hung by the chimney with care,
In hopes that St Nicholas soon would be there.

The children were nestled all snug in their beds,
While visions of sugar-plums danced in their heads.
And mamma in her 'kerchief, and I in my cap,
Had just settled our brains for a long winter's nap.

When out on the lawn there arose such a clatter,
I sprang from the bed to see what was the matter.
Away to the window I flew like a flash,
Tore open the shutters and threw up the sash.

The moon on the breast of the new-fallen snow
Gave the lustre of mid-day to objects below.
When, what to my wondering eyes should appear,
But a miniature sleigh, and eight tinny reindeer.

With a little old driver, so lively and quick,
I knew in a moment it must be St Nick.
More rapid than eagles his coursers they came,
And he whistled, and shouted, and called them by name!

"Now Dasher! now, Dancer! now, Prancer and Vixen!
On, Comet! On, Cupid! on, on Donner and Blitzen!
To the top of the porch! to the top of the wall!
Now dash away! Dash away! Dash away all!"

As dry leaves that before the wild hurricane fly,
When they meet with an obstacle, mount to the sky.
So up to the house-top the coursers they flew,
With the sleigh full of Toys, and St Nicholas too.

And then, in a twinkling, I heard on the roof
The prancing and pawing of each little hoof.
As I drew in my head, and was turning around,
Down the chimney St Nicholas came with a bound.

He was dressed all in fur, from his head to his foot,
And his clothes were all tarnished with ashes and soot.
A bundle of Toys he had flung on his back,
And he looked like a peddler, just opening his pack.

His eyes-how they twinkled! his dimples how merry!
His cheeks were like roses, his nose like a cherry!
His droll little mouth was drawn up like a bow,
And the beard of his chin was as white as the snow.

The stump of a pipe he held tight in his teeth,
And the smoke it encircled his head like a wreath.
He had a broad face and a little round belly,
That shook when he laughed, like a bowlful of jelly!

He was chubby and plump, a right jolly old elf,
And I laughed when I saw him, in spite of myself!
A wink of his eye and a twist of his head,
Soon gave me to know I had nothing to dread.

He spoke not a word, but went straight to his work,
And filled all the stockings, then turned with a jerk.
And laying his finger aside of his nose,
And giving a nod, up the chimney he rose!

He sprang to his sleigh, to his team gave a whistle,
And away they all flew like the down of a thistle.
But I heard him exclaim, 'ere he drove out of sight,
"Happy Christmas to all, and to all a good-night!"


Recommended Gifts



Below 25$
A Joyful Christmas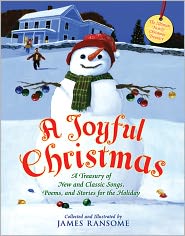 Christmas. A Poem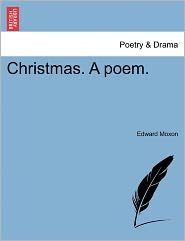 Amazing Peace: A Christmas Poem


Bethlehem: A Christmas Poem

Below 50$



Christ and Christmas: A Poem