Theydeserveit
>>
Christmas
>>
Christmas Sweets
Christmas Sweets
| | |
| --- | --- |
| | Christmas is a festival and a festival means decorations, get-togethers and delicious delicacies. Christmas sweets are fun to make and delectable to eat. Anything that is sweet to taste and pleasurable to the senses makes a Christmas sweet treat. Sweets include cookies, desserts, puddings, muffins, and pastries. When you go shopping for Christmas, |

malls are filled with aromatic sweet smell of Christmas sweets. Interesting shapes and varied tastes denoting the Christmas celebrations are the specialty of bakery shops during Christmas. You can either purchase these sweets or make something at home.




Try any of these following recipes at home, and make your Christmas meals sweet and mouthwatering!

Rum Truffles
Material needed-200g dark cooking chocolate, 60ml cream, 30g butter, 50g chocolate cake crumbs, 2 teaspoons dark rum, brandy or whisky, 100g dark cocoa powder

Instructions
Put the chocolate in a heatproof bowl. Heat a small pan and put butter and cream in it, keep mixing it until the butter starts to melt and just starts boiling. Pour this hot mixture on the chocolate and mix it until the chocolate melts and the mixture has a smooth texture. Now, add the rum and the cake crumbs while mixing. Put it in the fridge for 20 minutes. After taken out from the fridge, roll the mixture into approximately 25 truffles. Spread dark cocoa powder on a sheet of baking paper and roll each ball in it. Line the truffles on a baking tray with foil. Refrigerate for 40 minutes.

Edible Cookies Ornaments
Material needed-1/4 cup vanilla frosting, 9 ring-shaped butter flavored cookies or any ring-shaped cookies, 1 roll (9 count) ring-shaped fruit flavored Life Savers,1 ˝ to 2 yards red string licorice or ribbon

Instructions
Place the vanilla frosting in a small bowl and add the desired food color and blend it well. Now, place colored frosting in decorating bag fitted with small writing or decorator tip, or you can even put the frosting in a small resealable plastic freezer bag with 1 corner snipped off to make a very small hole for piping. Place 1 cookie on flat surface and lightly outline the center hole with frosting. Now place 1 ring-shaped candy over frosting, pressing it lightly and matching the center openings. Pipe the frosting decoratively on the cookie. Repeat with the remaining cookies and let them dry. Insert the ribbon through hole in each cookie and tie a knot or bow. You can hang these ornaments on the Christmas tree or use it to decorate packages or gift baskets.


Recommended Gifts



Below 25$
It's a Party Chocolate Dipped Strawberries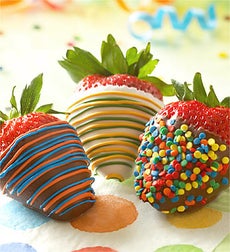 Mrs Beasleys Treats Box

Lemon Cake and Cookie Treats Gift - Medium

Below 50$



Cheryl's Classic Bakery Gift Tower



Junior's Devil's Food Cheesecake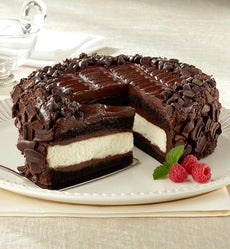 Mrs Beasleys Snack Gift Basket - Medium

Below 100$



Make-A-Wish Foundation Bakery Assortment


Cheryl's Fall Entertainer Gift Baskets - Large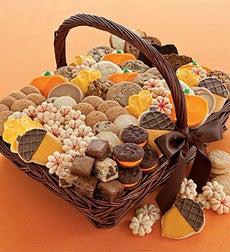 Make-A-Wish Foundation Supreme Gift Tower